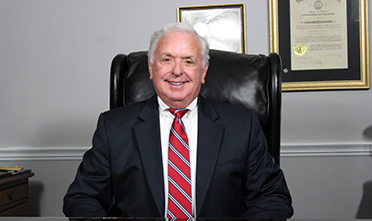 J. Jerry Pilgrim
Family Lawyer
Biography
J. Jerry Pilgrim, a graduate of the University of Alabama, received his License to Practice Law on September 26, 1972 the same year that he earned his Doctor of Jurisprudence Diploma.
Currently, Jerry is licensed to practice law in all Courts in the State of Alabama, the 11th Circuit of United States Court of Civil Appeals and also the 5th Circuit of United States Court of Civil Appeals.Throughout his legal career, Jerry has had the privilege to work in prominent judicial roles. Previously a special appointed probate judge and special appointed district judge, he also formerly acted as both an Assistant Attorney General and previously served as an Assistant District Attorney. Today Jerry practices law at Pilgrim & Pilgrim located at 63 South Royal Street, Suite 901 Mobile, AL 36602.
Over the years, Jerry's excellence in the practice of law has been recognized and he has been nominated for and received numerous professional awards and accolades including the following:-Selected for the "Best Lawyers in America" list consistently from 1995-present

Awarded the distinction of being chosen among the 

 

Lawyers of the Year in the Family Law category for Mobile, Alabama in 2009 and 2013




Named in 'Who's Who' list of Executives and Professionals




Also selected for the Strathmore 'Who's Who' list in both 2006, 2007, and two prior occasions
Voted the Lagniappe Reader's Choice Award for Best Domestic Lawyer in 2010, 2012, 2013, and 2018.
In addition to these accomplishments, Jerry was recognized as one of the 'Best Attorneys in America' by US News and World Report in 2014. The same publication has also made notice of the entire team at Pilgrim & Pilgrim by awarding the firm the title 'Best Law Firms in Alabama' in both 2014 and 2015.